The Kalamon Institute for Arabic Language is an officially-recognized private language school with a focus on Arabic.
Our team consists of very different people who all share a love for the Arabic language, art and music.
The institute was founded in 2017 and we look forward to continuing to enrich you with our range of courses. 
At the heart of our work is a basis of trust and good relationships with our students. That is why we are always happy when students make progress and come closer to their goals.
Arabic is one of the most widely-spoken languages in the world, one of the languages of the United Nations and an official language in 22 countries. No wonder that Arabic can also be heard frequently in Germany – and knowledge of the language can be applied accordingly. Whether ordering shawarma in your favorite restaurant, working with refugees, or just for fun – it's worth taking the step and learning Arabic. You have many choices for the language, from learning one of the many dialects, to learning classic Arabic, for work-related purposes or just for the sake of learning a new language.
One of the few language schools for Syrian dialect. The courses have been held online in small groups since the end of March, which is now working pretty well! There is a script, interactive lessons and a good mix of speaking, listening and writing. Fair course prices, as you pay according to your individual financial situation. So I highly recommend Kalamon!
Kalamon is the best language school for Arabic in Berlin! I have already attended several Arabic courses at renowned institutes in different cities / countries and accordingly had high standards, which Kalamon more than lived up to. The two teachers I know are excellent and also very knowledgeable and educated beyond mere language teaching, extremely friendly and flexible. The school itself is well located and offers an ideal, calm learning atmosphere. Not only the learning content, but also the language program itself is individually adapted to the student and the administration (Mirvat) is very unbureaucratic. Education vouchers are also accepted. I hope all future students will appreciate Kalamon as much as I do!
I am very happy that I can learn the Syrian dialect here. Many Thanks. 🙏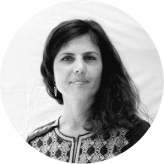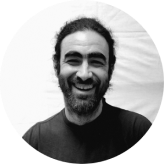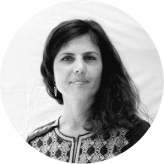 Mitgründerin – Verwaltung
Mitgründer – Sprachlehrer